NEW! Meet Casey. The smarter case picking solution.
Orbico chooses Gideon Brothers to make its logistics jobs safer and easier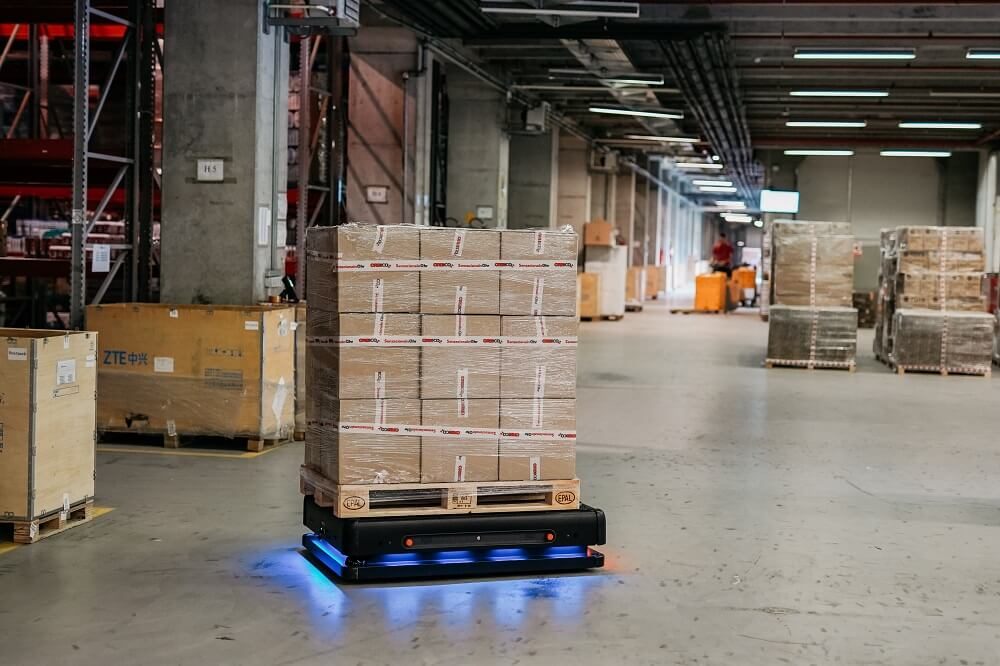 Orbico, a leading European distributor and supply chain management company, has launched a pilot project to deploy Gideon Brothers' collaborative autonomous mobile robots in their warehouse facilities. The pilot has been launched by Orbico Croatia in a distribution center near Zagreb.
As part of the pilot, Orbico has deployed two robots, testing various "on demand" use-cases, such as transporting goods on repetitive runs between certain points of the distribution center – to be labeled, for example. These use-cases, launched on demand by employees when needed, allow Orbico to test the functionality and flexibility of the Gideon Brothers' technology, including traffic coordination with forklifts, human-robot interaction, as well as Gideon Brothers' support and training processes. Orbico is also interested in testing use-cases that involve integration with warehouse management system software.
Orbico is an international company distributing more than 500 brands from over 170 suppliers to 80,000 customers in 20 markets. The group employs more than 8000 persons, and with a continued double-digit growth their annual revenue is expected to reach €2.3 billion in 2019, affirming its position as a leading European distributor, ranked first in the beauty care and consumer goods segments.
The privately-owned group built its operations around the central principles of flexibility and openness to constant change, as well as investing in employee development.
Deploying Gideon Brothers' robots is an effort that brings new efficiencies to and reinforces the flexibility of Orbico's operations. The added flexibility is especially important for Orbico Croatia, due to the extremely seasonal character of the local market. In certain market segments, the difference in demand between summer high season and non-tourist offseason is 1:17.
Branko Roglić, Orbico's founder and Supervisory Board Chairman, highlights possibilities offered by Gideon Brothers technology:
"Gideon Brothers' robots can autonomously operate within existing facilities, and that is a key advantage for us. The possibilities of what technology can perform changes with each day, but the costs and benefits are not always acceptable. However, Gideon Brothers' technology is offering great benefits for us at an acceptable price, and this is why we have chosen to launch the pilot project with them."
Mario Matić, General Manager of Orbico Croatia, explains the need to invest in new technologies:
"The market is changing faster than ever before, and today we have to adjust to the needs of each end consumer. This requires constant optimization of processes. Our employees are our greatest resource, and we want to utilize their potential where their work brings greatest added value, and free them from some of the many repetitive tasks in logistics operations. "
Vesna Rendulić, Non-Sales Director of Orbico Croatia, explains that there are two sides to increased efficiency:
"On the one hand, it allows employees to focus on more important, value-added tasks, which is especially important considering limited human resources that may, in fact, limit our growth. On the other hand, robots performing the repetitive, physically-demanding tasks also increase work safety, help decrease errors, and can operate round-the-clock if needed."
Marin Luketić, Head of Logistics at Orbico Croatia, explains how the robots help with daily challenges:
"Moving the goods from point A to point B is one of the key challenges in warehouse operations – due to the distances involved, this takes up a significant part of the total working hours. This is where we expect key benefits from Gideon Brothers' robots. We are very happy with how the pilot is progressing, and our employees are very interested in robots and how they can help them."
Matija Kopić, Gideon Brothers CEO and Co-Founder, notes why the company's technology represents a breakthrough:
"We at Gideon Brothers are creating industrial machines that will help humanity explore the next level of productivity. So far, few global suppliers have been able to offer true collaborative robots for warehouse and manufacturing environments, simple and quick to integrate, without long deployment cycles, workforce training, and customization. We are confident we have created such a solution, one that brings a revolution into warehouse operations."
Milan Račić, Gideon Brothers Chief Growth Officer and Co-Founder, explains why Industry 4.0 tools can help companies thrive:
"We are excited that we have launched a pilot project at Orbico Group, a company consistently growing their operations, both in EU and other European markets. Changing consumer expectations, digitalization, and technology are remaking the playing field and only companies that are adapting, and fully embracing the tools of Industry 4.0, will be able to power forward. Our technology helps companies transform, become more flexible and cost-efficient. "
Gideon Brothers' robots have so far been deployed at two other Croatia-based international companies, car-parts retailer Tokić and Atlantic Grupa, an FMCG manufacturer and distributor.
The robot is an entirely autonomous pallet carrier, capable of lifting 800 kg and is designed to navigate safely around people, equipment as well as other moving machines. Gideon Brothers' proprietary Advanced Visual Perception-based autonomy technology combines deep learning with stereoscopic cameras to create the next generation of robot vision. The technology offers unparalleled navigation and localization capabilities, thus allowing a significantly wider range of use case scenarios in the dynamic industrial environments than machines using only LiDAR.
Advanced Visual Perception allows Gideon Brothers' robot to detect machinery and indoor structures that LiDAR misses, such as the forks of an empty forklift in their safety-regulated lowermost position.
Another distinctive value-added feature is its hot-swappable battery system, allowing batteries to be exchanged in operation so that downtime is brought to a minimum.
As the robot is fully autonomous, it uses no guidance systems and no modification of facilities is necessary. It requires only pallet frames that allow the robot to pick-up and drop-off pallet and a charging station for batteries.
About Orbico Croatia:
Orbico d.o.o. is the leading distributor of global, high-quality brands of a broad portfolio, including beauty care products, food and non-food products, technical and electrical appliances, pharmaceuticals, toys, cigarettes as well as motor oils. Such a wide range of brands and products demands a high level of flexibility, openness to constant change, a flexible and adaptable organization, and investments into employee and brand development.
Their goal is to generate sustainable business growth and to create added value for their business partners and brands in their portfolio. Their customers are relevant and renowned market participants and include large multinational chains, local retail chains, wholesale stores, drugstores, pharmacies, independent local traders, B2B businesses and specialized sales channels. Orbico is a partner of choice,  offering their partners optimal product mix, services, flexibility, and local expertise.
With a team of passionate professional experts, they offer a comprehensive range of business solutions for sales, logistics services, marketing, and brand management for brands in their portfolio.
Orbico Croatia employs over 920 persons and is equipped with a WMS and TMS software. The company has two distribution centers, eight warehouses and 12 depo locations with a total of 54,000 m2 and a capacity of 50,000 pallet spaces.