Robots that can handle it.
Our innovative AI and 3D-vision technology powers a unique self-driving robot that can see the environment, understand it, and then localize in it – so that it can handle the work, all on its own.
UNDERSTAND
its environment
LOCALIZE
itself in real time
HANDLE
the work on its own
UNDERSTAND
its environment
LOCALIZE
itself in real time
HANDLE
the work on its own
We designed our Vision Module so robots can see the world just as you need them to – rain or shine and no matter what obstacles get in the way.
Using multiple sensors to enhance their vision, the robots can spot every little detail around them so they'll stay in the right places and get out of the way.
Understand
Human-like logic
You've got to see it to believe it. Our robots can detect and recognize objects using AI.
But they go a step further. They learn how to handle objects, too. Just like humans do! All thanks to the stereo cameras that help them see their surroundings and keep track of moving objects.
LOCALIZE
Continuously aware
Our robots are continuously aware, thanks to their ability to build 3D maps where they can save natural features and model the world in full 3D detail.
They know where they are by constantly comparing features they see to those saved on the map.
HANDLE
Safe and intuitive
Our robots navigate all on their own. They can plan routes, avoid obstacles, and handle objects with precision and accuracy.
They won't bump into people or interfere with their tasks. Built-in safety triggers override any situation and immediately stop the robot in its tracks.
Safety-first design
01
Enhanced visibility
Audio and visual signals, like blue light and turning lights, increase the robots' visibility for your team.
02
360° view
Wide-angle stereo cameras catch low-lying and overhanging obstacles.
03
AI-powered autonomy
Robots predict motion and recognize human forms for increased safety.
04
Safety laser scanner
Certified 2D LiDARs (optical radars) trigger an immediate stop for objects detected in safety zones.
05
Dynamic safety zones
Safety perimeters around the robot increase with speed to optimize reaction time.
06
Emergency stop buttons
Manual emergency stop buttons are easily accessible.
In a labor-scarce market, heavy manual work is costly. Our autonomous mobile robots reliably and safely automate the toughest manual material handling jobs in manufacturing, logistics, warehousing, and retail.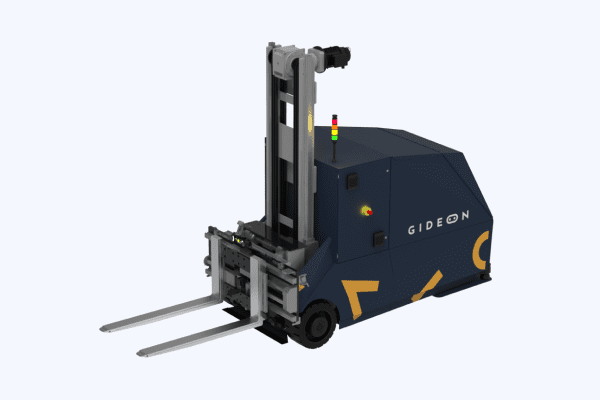 AUTONOMOUS TRAILER (UN)LOADING
The autonomous forklift handles your trailer loading and unloading operations.
TAKE A RIDE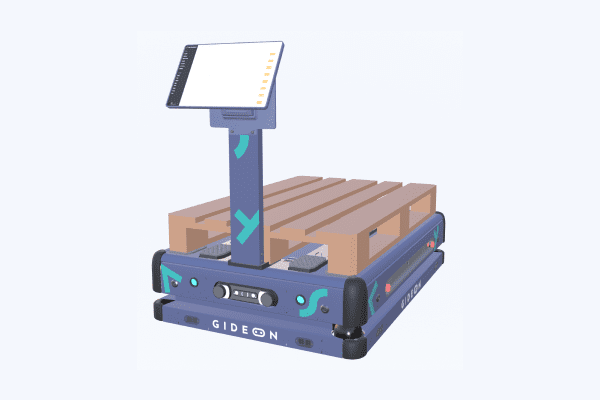 AUTONOMOUS CASE PICKING
The complete solution for autonomous and optimized case picking.
TAKE A RIDE