NEW! Meet Casey. The smarter case picking solution.
Tokić – the first Croatian company to deploy fully autonomous robots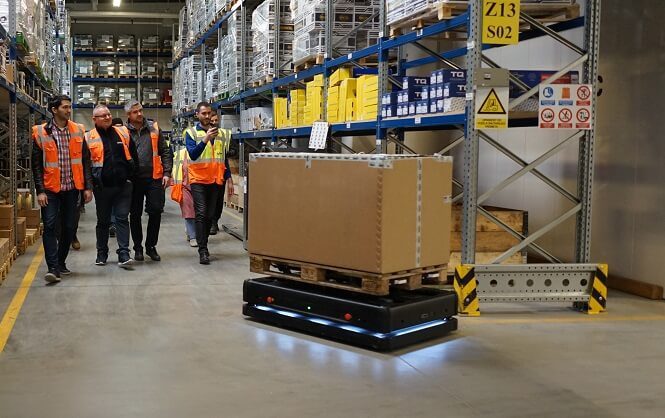 Tokić d.o.o., a leading Croatian car-parts retailer, has partnered with robotics and AI company Gideon Brothers to deploy autonomous mobile robots in its logistics and distribution center near Zagreb, Croatia. Tokić is the first Croatian company to implement fully autonomous mobile robots, as part of its plan to streamline its operations and raise productivity ahead of the planned expansion to other EU markets. Deploying collaborative logistics robots will allow Tokić to raise its capacities and pursue expansion plans in spite of a significant shortage of workers in Croatia's labor market.
Gideon Brothers is one of only three companies globally, and the only one in Europe, that develops autonomous technology with navigation based on visual perception, using stereoscopic cameras underpinned by deep learning. Gideon's Advanced Visual Perception autonomy offers a wider range of use-case scenarios because the technology is more robust in terms of localization and object detection than LiDAR-only (LiDAR = Light Detection and Ranging) solutions. Flexibility and efficiency are crucial factors for Tokić, as the company stocks over 200,000 articles, sold through its network of own stores and franchise outlets dominating the Croatian car-parts market and holding a substantial market share in the region.
The robot is designed to transport heavy payloads – up to 800 kg (1,764 lbs) – on standard pallets without the use of guidance mechanisms. The project has not required any changes to Tokić's facilities, and the robot was deployed on real tasks from the first day. In this initial test phase, the robot is carrying loads between two points in the warehouse, at a distance of around 100 meters multiple times per day.
The company is currently exploring two uses cases. One use case engages the robot in service of order fulfillment – delivering articles stored in the warehouse to a packing area near the main loading dock. Workers then take the articles and pack them in boxes intended for shipment. The other use case employs the robot to deliver packing material for disposal. The deliveries are initiated by Tokić employees, on demand, through an interface application on tablets.
Ivan Gadže, CEO of Tokić, explains that the company decided to partner up with Gideon Brothers as part of its strategic long-term orientation toward growth and efficiency. As part of its plans for international expansion, Tokić is focusing not only on making sure they have skilled, experienced – and satisfied – employees with the expertise to bring those plans to life, but also on making sure they are equipped with the best tools to do the job.
"We are aware that our business environment faces the challenge of significant labor shortage. Tokić hasn't felt this problem so far, as employee satisfaction has been built into our values from the start. One aspect of this are the average wages, which are much higher at Tokić than the industry average. However, the labor market trends are such that we face the risk that, due to a lack of workers in the service industry, we won't be able to grow at the rates we've achieved so far. A strategic approach to adapting to these market trends is an integral part of our business growth strategy, that certainly also envisages new jobs," said Ivan Gadže, Tokić CEO.
"Even today, most of the work being done in modern warehouses and factories is performed by humans. Humans are creative beings. The more creative they are, the happier they become. However, in factories and warehouses their work includes many repetitive, difficult, and dangerous tasks. These jobs are not making humans happier. The technology is revolutionary in our autonomous mobile robotics, but more importantly, it allows humans to focus on the complex activities that they're good at," said Matija Kopić, CEO and Co-Founder of Gideon Brothers.
"Global sales of collaborative logistics robots is exponential right now and the market is quickly powering through the early adopter phase of the innovation cycle. We are thrilled that Tokić is one of the innovators. A company investing in new technology raises its competitiveness, setting itself on a path to grow and expand, making sure it is poised to succeed in spite of a shrinking labor force. Logistics is a labor-intensive industry and lack of workers is a real and growing risk," said Milan Račić, Chief Growth Officer and Co-Founder of Gideon Brothers.
Including its franchise partners, Tokić is the largest car-parts retail chain in Croatia, with over 100 outlets. The company currently employs 500 people, and that number rises to over a thousand when their franchise partners are included. The company is a licensed retailer of 230 global suppliers of parts for cars, light commercial vehicles, trucks, motorcycles and agricultural segment, as well as service workshops. Tokić is a member and shareholder of ATR, a global trade association and its members are leading car-parts retailers at their home market. ATR members' total annual revenues, from 64 markets, surpass 22.5 billion euro.
Gideon Brothers is a Croatian robotics and AI startup founded in 2017, receiving several international and Croatian awards. In 2018, investors from Croatia and abroad invested a total of 16.3 million kuna (€2.2 million, US$2.5 million). Its 50-person team includes 8 PhDs and 31 Masters of robotics hardware and AI software. In December, Gideon Brothers unveiled its first commercial product, an autonomous logistics robot – the same model that is being deployed at Tokić right now and in Atlantic Grupa and others, soon.
The combination of hardware and software allows the robot to detect machinery and indoor structures that LiDAR misses, such as the forks of an empty forklift in their safety-regulated lowermost position.
Another distinctive value-added feature is its hot-swappable battery system, allowing batteries to be exchanged in operation so that downtime is brought to a minimum.
The robot requires very little physical infrastructure: just the pallet frames, that allow the robot to pick up and drop off pallet loads, and a charging station for batteries. No modification of facilities is necessary. As the robot is fully autonomous, no special "marker" infrastructure, such as magnetic tape or beacons, is needed.