NEW! Meet Casey. The smarter case picking solution.
Logistics giant DB Schenker deploys Gideon Brothers' logistics robots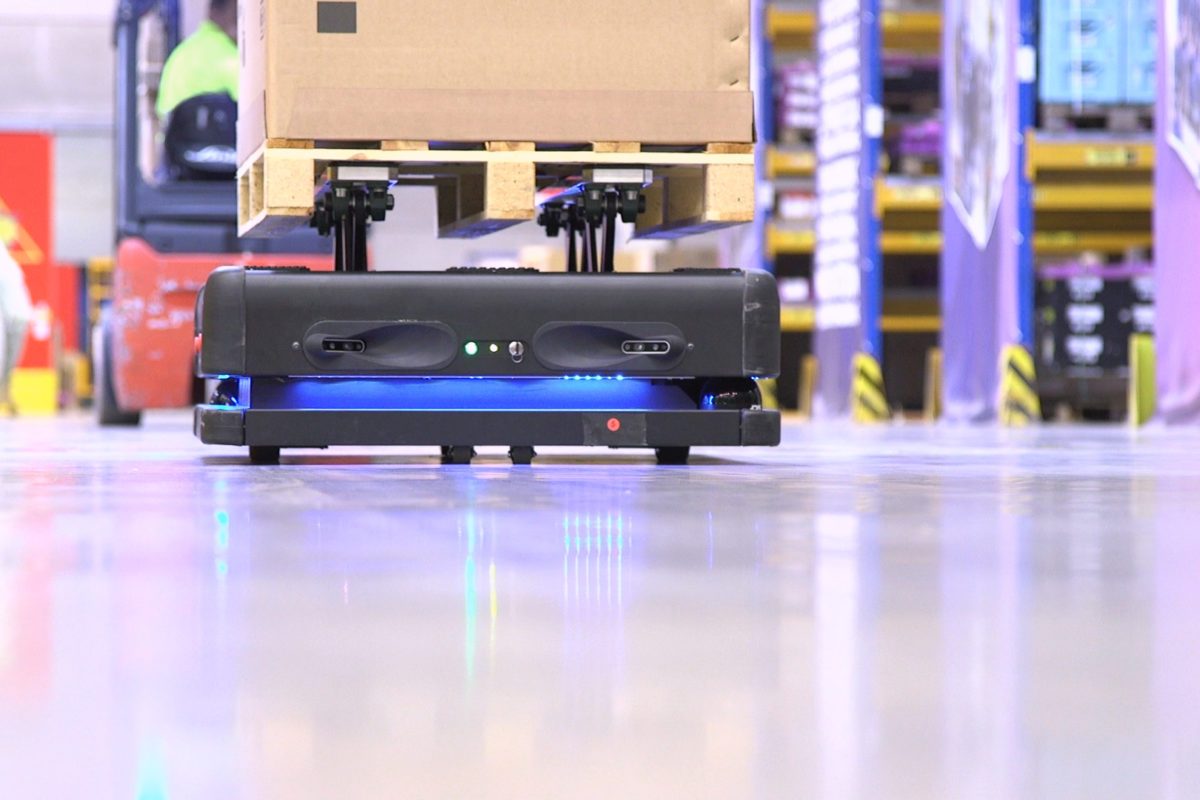 Highlights:
Pilot successfully completed with global market-leading logistics provider, DB Schenker – an air, land, sea, and contract freighter with revenue of €17.05 billion.
Gideon Brothers' autonomous mobile pallet handling robots lift/transport 800kg.
The robots combine deep learning with stereoscopic cameras to achieve a new kind of advanced visual perception that is cheaper than LiDAR.
The robots operate in a DB Schenker facility in Leipzig.
Investors have invested nearly €5 million in the robotics and AI start-up, Gideon Brothers.
Leading global logistics provider DB Schenker has introduced Gideon Brothers' autonomous logistics robots into service at its Leipzig facility.
Gideon Brothers, an AI and robotics company, developed breakthrough autonomy technology that combines deep learning and advanced vision-based perception. The technology offers a flexible solution for automating logistics operations in existing facilities, allowing productivity gains without the need to modify facilities
"In our drive to offer strategic advantages for our clients in the increasingly complex digital environment, DB Schenker continuously explores opportunities to integrate innovations from visionary start-up companies. Delivering automation possibilities for logistics and warehouse operations is a foundation for building the next-generation supply chain.

Xavier Garijo

Member of the Board Contract Logistics at Schenker AG.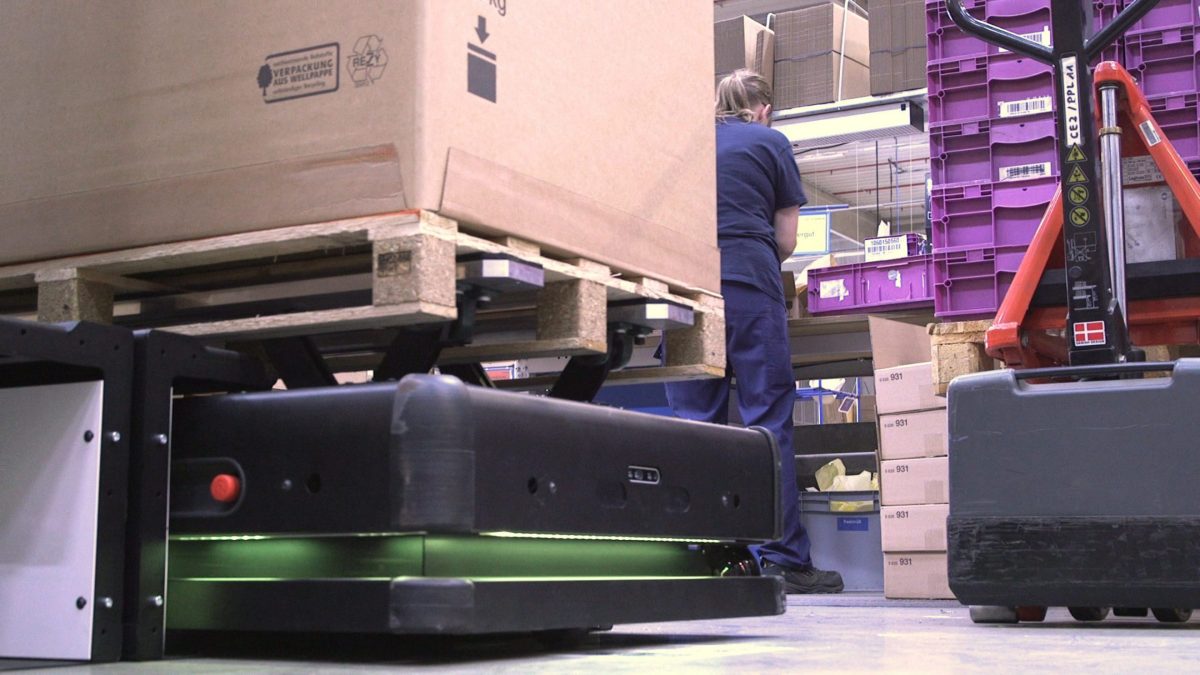 Gideon Brothers' autonomous logistics robot is capable of moving 800 kg and is designed to navigate safely around people and equipment as well as other moving machines. It is equipped with a Visual Perception-based Robot Autonomy System, which combines deep learning with stereoscopic cameras to create the next generation of robot vision. Gideon Brothers' technology is as reliable for navigation as LiDAR but is – unlike LiDAR – data-rich. Other than the revolutionary AI-powered visual perception, a critical competitive advantage is a hot-swappable battery system, allowing minimum downtime for recharging.
During the pilot, robots automated tasks associated with regular order fulfillment, speeding it up and allowing employees to focus on more complex tasks. A few weeks into the project, DB Schenker expanded the pilot by adding a significant number of new pick-up and drop-off points. The flexibility of the system is showcased by the fact that both the expansion and the ongoing fine-tuning was undertaken by DB Schenker staff. In the first month of the pilot, a typical distance covered by a robot surpassed 26 km per week.
˝Our machines perceive the world just like we do – by processing visual inputs and understanding what surrounds them and how it relates to their tasks. This is a technological leap. Self-driving machines, powered by vision visual perception and AI, will succeed where earlier technology failed – it will become ubiquitous in industrial environments,"

Matija Kopić
LiDAR is the dial-up of the autonomy world. It is a very good technology but 2D LiDAR has too many real-world limitations, making it a transitional step on the road to full autonomy. 3D is great, if economics don't matter. Camera vision technology is the future of mobile autonomy, particularly in busy and ever-changing logistics centers. Our technology is gaining clear and unequivocal validation from our customers. This validation will help us become the leading mobile robotics provider in the industry.

Milan Račić

Chief Growth Officer and Co-Founder of Gideon Brothers
About DB Schenker
DB Schenker is the world's leading global logistics provider and supports industry and trade in the global exchange of goods through land transport, worldwide air and ocean freight, contract logistics and supply chain management. The company employs more than 75,800 people at 2,000 locations around the globe.
About Gideon Brothers
Prominent angel investors and venture capital firms have invested a total of nearly €5 million into the Croatian robotics and AI start-up, founded in 2017. A recent Seed round closed with an additional €2.65 million raised. Investors in the previous round included Taavet Hinrikus, Chairman and Co-Founder of the UK's fintech unicorn – TransferWise, LocalGlobe (London), Plug n Play (Silicon Valley), Hardware Club (Paris) and others. Pentland Ventures led the latest round, which closed in August 2019. Pentland Ventures is the direct investment division of the Pentland Group – the privately held global brand management company based in the UK whose portfolio includes Lacoste and Speedo. NJF Capital and Linic Ltd were also new investors in Gideon Brothers' 70-person team which includes 10 PhDs and 38 Masters of robotics hardware and AI software.
The company has received several awards, including the prestigious AI Rising Stars award at the 12th annual Founders Forum in London (June 2018) and Best World Mobility and Logistics Startup at Start.up! Germany (October 2018).
Currently, Gideon Brothers has multiple ongoing pilot projects with international logistics and distribution companies whose total revenue is approximately €20 billion and who employ 84,000 workers.
Don't miss any news from Gideon!
By subscribing to our media email distribution list, you will get early access to important releases, alerts and other media materials. Subscribe here.