NEW! Meet Casey. The smarter case picking solution.
Gideon Brothers unveils its first commercial logistics robot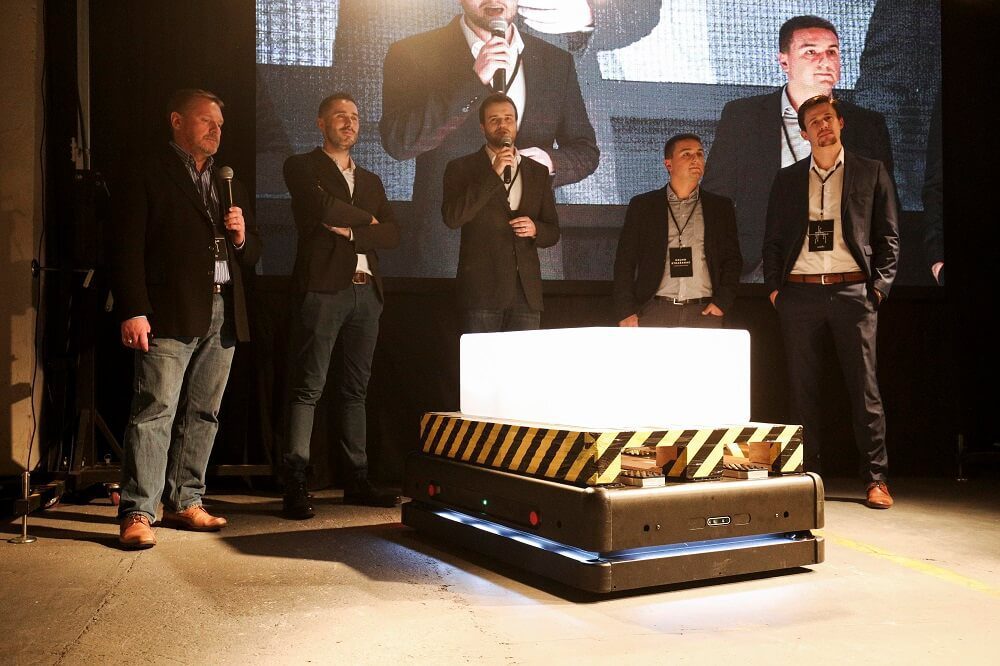 Gideon Brothers, a Croatian robotics company, unveiled today the prototype of its first commercial product – an autonomous logistics robot that will be rolled out in pilot projects at three leading Croatian multinationals: Atlantic Grupa, Orbico and Tokić. The company also revealed its investors, from Croatia and abroad, who have so far invested a total of 16.3 million kuna (€2.2 million, US$2.5 million).
The product is a self-driving logistics robot, capable of moving 800 kg, and designed to manoeuvre safely around people, equipment as well as other moving machines. It is equipped with a Visual Perception-based Robot Autonomy System that combines deep learning with stereoscopic cameras to create the next generation of robot vision that is as reliable but ten times cheaper than LIDAR and is – unlike LIDAR – data-rich.
The successful development and creative drive of Gideon's team – that currently includes 5 PhDs and 26 Masters of hardware and software engineering – has been recognized by 21 investors from Croatia and abroad. The company, founded in 2017, raised €460.000 in the first quarter of 2018 from angel investors, led by Taavet Hinrikus, Co-Founder and Chairman of TransferWise.
In the third quarter of 2018, Gideon Brothers raised an additional €1.72 million in a seed round co-led by LocalGlobe (London) and Hardware Club (Silicon Valley & Paris). They were joined by Plug and Play Ventures (Silicon Valley), SparkLabs Global Ventures (Silicon Valley), as well as angel investor Taavet Hinrikus and other international investors.
Jerry Yang, General Partner at Hardware Club, noted that Gideon Brothers stands out in the growing and propulsive new robotics field thanks to "excellence in all aspects of this business", including great machine vision, impressive robotics design and working closely with clients. See full quote below.
Tara Reeves, Partner at LocalGlobe, noted that Gideon Brothers took great care to build a strong foundation on which to build up an ˝international robotics and AI power-house˝. See full quote below.
Gideon Brothers is very excited and proud to have drawn such interest. London-based LocalGlobe is one the most active seed investors in the UK that has previously invested in companies like Bitly and TransferWise. Paris-based Hardware Club is one of the most prominent venture firms in the hardware start-up space, focusing on game-changing technologies and products.
See below for more information on investors.
"We are lucky to be living through extraordinary times – what was only a dream for many robotics thinkers and dreamers in past decades and centuries is now rapidly unfolding in our days. The support from our investors and customers confirms our conviction that autonomous robots powered by visual perception will profoundly – and positively – transform our human society. The path toward a brighter, more productive and more fulfilling future won't be easy. But humans and machines together, working in harmony, can achieve great things. That's the vision of the future we're building at Gideon Brothers, one step at a time", said Matija Kopić, Chief Executive Officer at Gideon Brothers.
"We are proud that three leading Croatian multinationals have recognized the value to the supply chain that we offer. We are deeply convinced that our logistics robots can both give a competitive edge to our partners as well as help our Croatian economy use and – even more importantly – create opportunities brought by new technologies. We must keep up with the transformation Industry 4.0 brings, or we will never manage to narrow the divide with the countries so many of our youth are leaving for today", said Milan Račić, Chief Growth Officer at Gideon Brothers.
The three companies that will take part in the pilot roll-out have a combined revenue of over €3 billion and operate in more than 30 countries. Atlantic Grupa is one of the largest food companies in the region, Orbico is the largest CEE distributor of leading international brands, and Tokić is the largest automotive spare parts retailer and franchiser in the region. All three companies note the strategic relevance of the project.
˝Atlantic Grupa became one of Central and Eastern Europe's leading food companies by focusing on excellence – in products, in service and in people. We see digital transformation as an important element of our future competitiveness and therefore are excited about our upcoming pilot project with Gideon Brothers in the field of AI and robotics in our logistics operations˝, said Mladen Pejković, Senior Executive Director at Atlantic Grupa.
˝We understand change and have a passion for winning. We win consistently because we build simple and flexible organizations adaptable to change. Changes will only accelerate in the future and our partnership with Gideon Brothers gives us the AI and Robotics tools to shape the future. Gideon Brothers brings us intelligent automation, which will ensure that we continue winning well into the future˝, said Branko Roglić, Owner and President of the Supervisory Board of Orbico.
˝Tokić is currently mobilizing the best people to realize our goals of international expansion into other EU markets, and we are also looking to provide our employees with the best possible tools to help get us there. This is why we are excited at the opportunity to join with Gideon Brothers to bring intelligent automation to our operations, to replicate the success that we have achieved in Croatia, but on an international stage˝, said Ivan Gadže, Chief Executive Officer at Tokić.
Our investors include:
LocalGlobe (UK)
Hardware Club (France)
Taavet Hinrikus (UK)
Plug and Play (USA)
Mirjana and Ivan Topčić (Croatia)
Peaksjah OÜ (Estonia)
SparkLabs Global (USA)
David Rowan (UK)
Berislav Horvat (Croatia)
Luca Ascani (Ireland)
Marko Lesić (Croatia)
Krešimir Ružđak (Croatia)
Nenad Bakić (Croatia)
Mislav Tolušić (USA)
Iva and Krešimir Kos (Croatia)
Dominik Pašalić (USA)
Michael Prpić (Canada)
Ivo Šulenta (Croatia)
Ivan Ivin (Croatia)
Preferred to Remain Undisclosed
Preferred to Remain Undisclosed
Tara Reeves, Partner, LocalGlobe
˝There are five basic elements to running a successful start-up: team, product, growth, underlying unit economics and capital/cash-flow. Gideon Brothers has the whole package. From day one Gideon Brothers has exhibited a maturity in its approach which goes beyond what we see in other start-ups. They have taken great care to build a strong foundation on which to build up an international robotics and AI powerhouse.˝
Jerry Yang, General Partner, Hardware Club
"Other than having an amazing entrepreneurial team, Gideon Brothers is also the most impressive when it comes to excellence in all aspects of this business. At Hardware Club we've evaluated many warehouse robotics start-ups. Some claim to be best in machine vision. Some have impressive robotics design. A few work with clients closely. However, as far as I know only Gideon Brothers manages to hit on all cylinders at such an early stage. I have full confidence in Matija and the team and am excited to be part of the journey."