NEW! Meet Casey. The smarter case picking solution.
Atlantic Grupa introduces Gideon Brothers' robots into business processes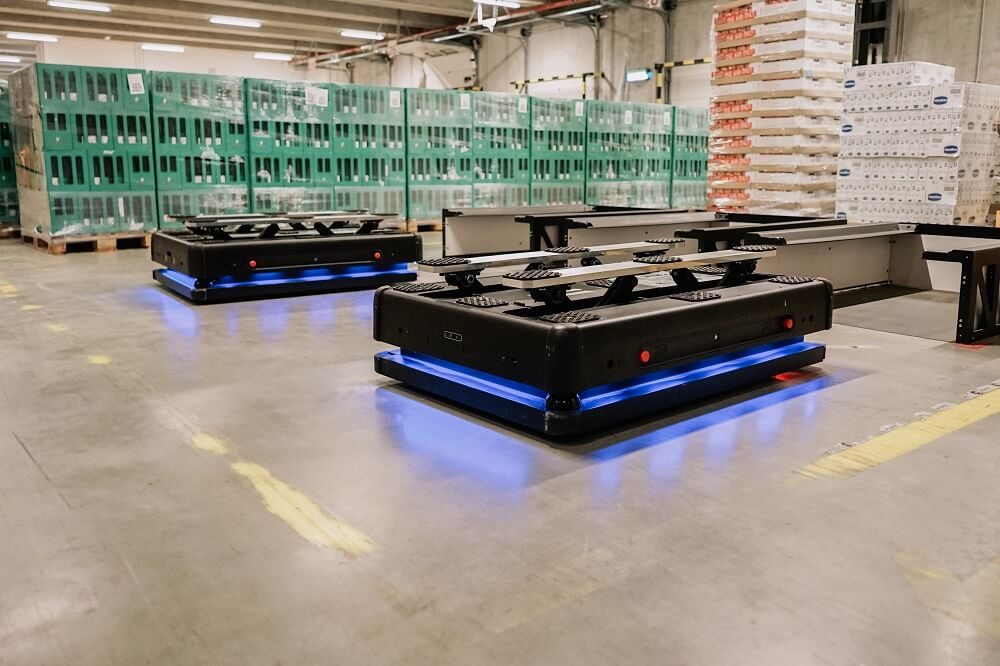 AI and robotics firm Gideon Brothers launched its second pilot project so far, with Atlantic Grupa, a Croatian FMCG leader with a significant European footprint. The project will see Gideon Brothers' logistics robots – fully autonomous machines thanks to breakthrough visual-perception technology – deployed in Atlantic Grupa's brand new logistics distribution center, already geared for high efficiency.
This roll-out is significant because the use-case brings a new level of automation to Atlantic Grupa's distribution center, aiming to seamlessly integrate the company's warehouse management system (WMS). To achieve this, Gideon Brothers will be working with Symphony RetailAI, Atlantic Grupa's provider of WMS software.
Atlantic Grupa's new facility boasts entirely digitized, paperless warehouse operations, powered by a state-of-the-art warehouse management system. It will allow an optimized organization of storage and entirely digitized management of receiving, fulfillment, and shipping of goods as well as vehicle management.
The fully autonomous robots, a pallet-carrier with a load/lift capacity of 800 kg, will be incorporated into this digitized setting, bringing added efficiencies into the already streamlined picking operations. The specific use-case is based on a 'swarm me' approach to picking, where the robot moves from one warehouse area to the next – and the worker in charge of each area, along the most efficient route. It is expected that, among other benefits, the project will also alleviate staffing pressures.
Mladen Pejković, Senior Executive Director for ICT, Business Development, and Corporate Strategy at Atlantic Grupa, notes the importance of the project, confirming their role as an industry leader:
"This is, without doubt, advanced technology and we see numerous advantages from its implementation. The first is, of course, the rising efficacy. The second is relieving the lack of workers, that affects not only tourism and manufacturing but also distribution. We are here, in fact, busting this myth of robots taking over jobs. The true story is a collaboration of people and robots, where repetitive – and boring – tasks are being taken over by robots allowing people to focus on more creative work, at a more supervisory level, raising worker satisfaction as well as higher efficiency. The earlier generations of robots – such as those Atlantic Grupa already implemented in various locations – do not allow collaboration and often require protective fences around the robots to ensure safety. We are very ambitious and we have great plans with further developing this project. We believe in this technology and are convinced that Gideon Brothers will achieve global success."
Matija Kopić, CEO and Co-Founder of Gideon Brothers, points out the potential of the innovation:
"Our Advanced Visual Perception technology is raising the bar of what autonomous mobile robots can do in a real warehouse and manufacturing environment – one that is highly dynamic and constantly changing. The performance of our robot in industrial environments that cripple competitors' tech demonstrates the robustness of ours. We bring a true change to the task of industrial material handling, relieving people from repetitive, difficult and dangerous tasks and unleashing their human potential – the potential that we can now apply to high value-added and complex tasks."
Milan Račić, Chief Growth Officer and Co-Founder of Gideon Brothers, notes the importance of the transformation:
"The global consumer products industry is changing dramatically, with the tempo increasingly set by e-commerce and the digitalization of operations. It's forcing even global giants to adapt. We are excited to partner with Atlantic Grupa, implementing a solution that increases efficiency by automating a great part of the fulfillment process and tracking performance, but without compromising on flexibility or cost control. Our collaborative logistics robots are a flexible tool that will make the jobs of warehouse employees easier and safer."